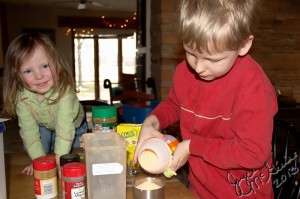 I like "Rotten Tea".  One day I was making a tea mix. I accidentally called it Rotten Tea instead of Russian Tea. Everybody laughed and the name stuck!
We have changed the original recipe.  Uncle Joe likes it with more spices, so we added some.  Momma doesn't like the stuff in Koolaid, so we changed that. Momma doesn't like Tang much either, but we can't find something to change it with.
I like Rotten Tea very much. After we go outside to play, it is very very good.
Recipe:
1 cup Tang
+/- 2 cups sugar
2 (3 oz) packages Lemonaid mix (like Kool-aid or Wylers) Or 6 packages True Lemon (about 3⁄4 tsp total)
1/2 cup instant tea without sugar
1 tsp ground cinnamon
+/- 1 1/2 tsp ground cloves
+/-1 tsp allspice (opt)
+/- 1 tsp nutmeg (opt)
Mix ingredients well.  Store in airtight container.  Use about 3 tsp mix with hot water for each cup.  Experiment to get the taste you like!