Today I made stew with Italian bread and salad. I had fun making it! It was easy.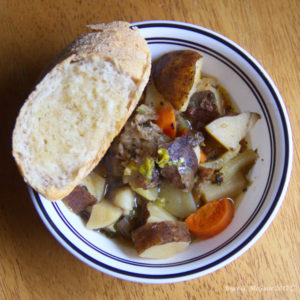 To make the stew I used*
Two small to medium or one large onion
Three pounds of chuck roast
Four carrots
Three cups of beef broth
2 celery ribs
Six small potatoes
Two cloves of garlic
A dash of Worcester sauce
Oregano to taste
Salt and Pepper to taste
Cut onions and put in crock pot, unwrap the roast and place in crock pot add pepper, oregano, and garlic and put on the lid and turn the crock pot on low. After about three hours add the potatoes, celery, carrots, and broth. When you are almost about to eat it (or slightly earlier) add the Worcester sauce. Serve in bowls and eat with you favorite Italian bread with garlic butter and salad!
*We just used what we had on hand to make it, you can add other things in it.