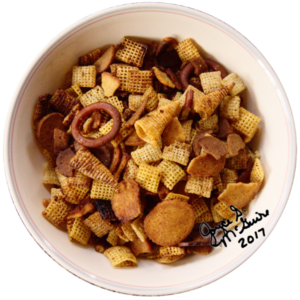 Megan and I made party mix today. We changed our recipe to make it even better!
3 cups Corn Chex
3 cups Rice Chex
3 cups Cheeze Bugles
2 cups Extra Dark, Extra Salty Beer Pretzels
2 cups Rye bagel chips, broken in half
2 cups Garlic Bagel chips, broken in half
1 1/3 stick Butter
5 Tbl coconut oil
3 Tablespoons Worcestershire Sauce
10 dashes Franks Red Hot Sauce
5 cloves mashed garlic
1 teaspoon of your favorite seasoned salt recipe
1/4 tsp Onion Powder
1/2 tsp garlic powder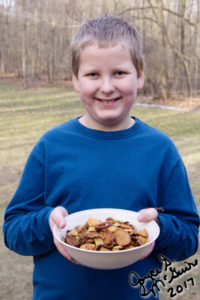 Put all the crunchy stuff in a big bowl.
Melt the butter and coconut oil over low heat. Add the garlic and start browning the butter.
Taste and adjust seasonings if needed. We like it with less salt, so you might want to add more.
Put crunchy stuff on cookie sheet with sides and pour butter with seasonings over while stirring.
Bake at 250 degrees until mix is dry (about 1 hour and a half) Stir every so often.  Cool and store in an airtight container, and be sure to share!